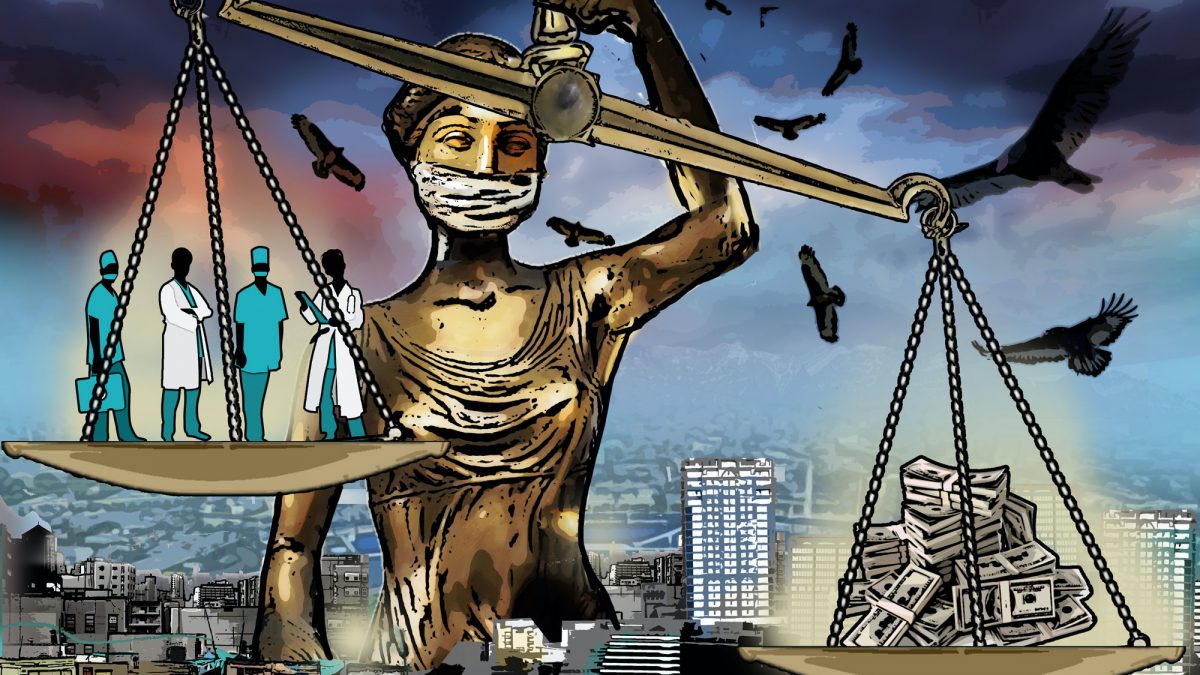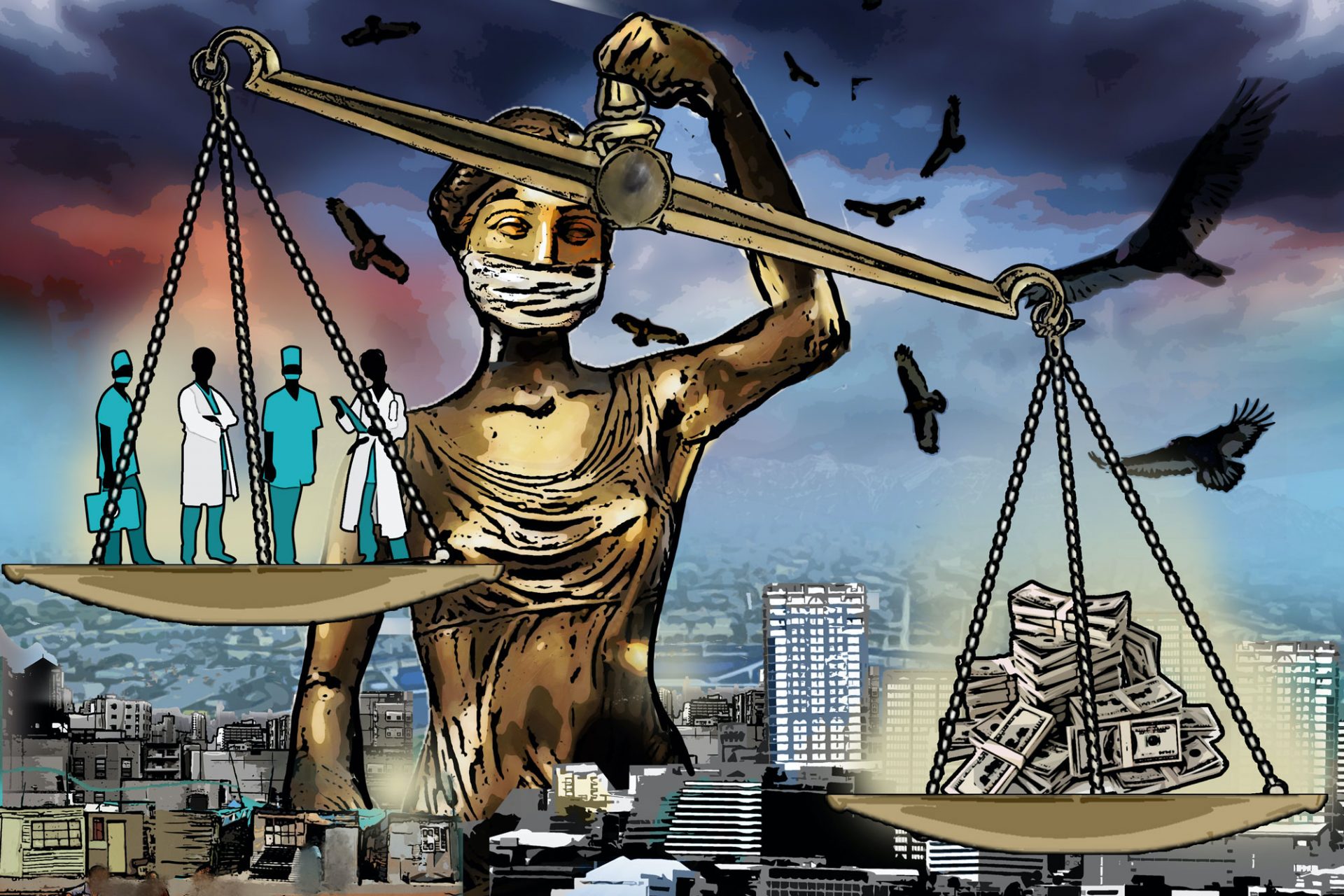 Cashing in on the pandemic
How lawyers are preparing to sue states over COVID-19 response measures
Corporate Europe Observatory and Transnational Institute
19 May 2020
As governments take action to fight the COVID-19 pandemic and prevent economic collapse, big law firms are watching the virus too. Yet their concern is not to save lives or the economy. Instead the lawyers urge big business to challenge emergency measures in order to defend their profits. In a parallel corporate justice system called ISDS, states could face multi-million dollar lawsuits.
On 26 March 2020, Italy's coronavirus death toll surpassed 8,000 – then over twice the number seen anywhere else in the world. Morgues were overflowing with coffins and hospitals had long stopped accepting any non-emergency patients as doctors were fighting to save lives. "I have never seen anything like this," one of them told a reporter. "You think everything is fine. Then, when it gets into the lungs, it convinces the body to fight so much, we end up killing our own bodies."
On the same day, lawyers of Italian law firm ArbLit published an article entitled "Could COVID-19 emergency measures give rise to investment claims? First reflections from Italy". Instead of worrying about Italy's record coronavirus death toll, the lawyers pondered whether the Italian government's "hastily drawn-up and ill-coordinated" measures to curb the spread of the virus and lessen its economic impact, "may well fall within the scope of... investment treaties... between Italy and other states, paving the way for damages claims brought by foreign investors against Italy."
"When the emergency is over, states will... have to face arbitration claims brought by foreign investors under any applicable bilateral investment treaty." Lawyers of Italian law firm ArbLit
A parallel justice system for the rich
Globally, thousands of trade and investment agreements give sweeping powers to foreign investors, including the peculiar privilege to sue states in an arbitration court system known by the acronym ISDS (investor-state dispute settlement). In ISDS tribunals companies can claim dizzying sums in compensation for government actions that have allegedly damaged their investments, either directly through expropriation or indirectly through regulations of virtually any kind. The number of ISDS suits has skyrocketed in the last decade, and so has the amount of money involved.
In recent years, the ISDS regime has come under heavy criticism from legal scholars, trade unions, environmentalists, consumers and other civil society groups. They have lambasted it as a parallel justice system for the rich, which grants more favourable treatment to some of the wealthiest actors in society than anyone else. ISDS allows foreign investors – and foreign investors alone – to bypass courts and get public money in compensation, which would not be available for them in domestic legal systems. One reason is that tribunals can award damages for companies' lost expected future profits, which are not compensable under most other legal regimes; another is the lack of balance of investors' rights with other societal interests; yet another is the lack of rules that limit the power of the tribunals so that they do not unduly interfere with democratic decision-making (see, for example, this statement by 202 US law and economics professors and this one by 101 European professors). Domestic firms, citizens and communities have no access to ISDS.
Preparing a pandemic litigation wave
In the midst of a crisis like no other, the legal industry is preparing the ground for costly ISDS suits against government actions that address the health and economic impacts of the coronavirus pandemic. In written alerts and webinars law firms point their multinational clients to investment agreements' vast protections for foreign investors as a tool to "seek relief and/or compensation for any losses resulting from state measures" (blog post by lawyers of Quinn Emanuel).
"It seems clear... that the current crisis will give rise to investment treaty claims." Client alert on "COVID-19 and Investment Treaty Claims" by law firm Volterra Fietta
As law firm Ropes & Gray put it in an alert: "Governments have responded to COVID-19 with a panoply of measures, including travel restrictions, limitations on business operations, and tax benefits. Notwithstanding their legitimacy, these measures can negatively impact businesses by reducing profitability, delaying operations or being excluded from government benefits... For companies with foreign investments, investment agreements could be a powerful tool to recover or prevent loss resulting from COVID-19 related government actions."
As ISDS disputes "often follow economic, financial, or other crisis" (lawyers from Debevoise & Plimpton in a webinar), some lawyers are predicting a substantial "wave of disputes that will arise in response to the COVID-19 pandemic" (webinar announcement by Alston & Bird). With legal costs for ISDS disputes averaging around US$5 million per party while having exceeded US$30 million in some cases, a boom in claims would mean big business for the law firms.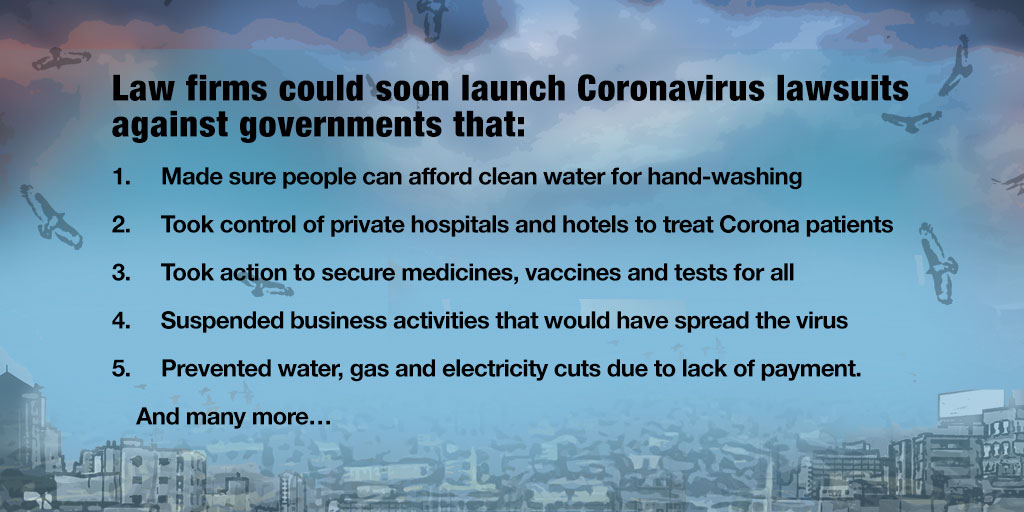 It happened before, it will happen again
The lawyers' enthusiasm is not based in fantasy. In the past 25 years over 1,000 known investor-state lawsuits have been filed. As a Reed Smith lawyer points out "many of those disputes arose out of difficult societal circumstances such as the Argentine financial crisis in the early 2000s or the Arab Spring in the early 2010s". Investors have won a significant amount of ISDS claims as arbitration tribunals ruled that it was illegal to interfere with prices of essential goods, restrict or tax the export of vital products, roll back incentives to investment – and the list goes on. Now, once again "these and other types of measures taken in response to the COVID-19 pandemic could attract arbitration claims for state responsibility under investment treaties," argues the Reed Smith practitioner.
As states struggle with the pandemic and with rebuilding their economies, ISDS cases could mean huge extra financial burden. "Recoverable damages (and corresponding exposure for governments) can be massive," write lawyers from law firm Sidley in an insight on "investment treaty claims for COVID-19 losses". They explain: "Where a company prevails in its investment treaty claims, it may be able to recover all the losses that flowed from the government measures that damaged the company. This may extend beyond the amounts initially invested (actual cost) to going concern value, including lost future profits." Compensation for lost hypothetical future profits is one reason why ISDS awards can go into the tens of billions and can be much more lucrative than domestic court rulings.
"Perversely, these potential lawsuits and the financial compensation they seek will only add to the already immense financial burden on many states." Researchers at the Transnational Institute, April 2020
Incalculable risks for states
Arguments to circumvent possible state defences
States will not be completely defenceless when hit by ISDS lawsuits over the measures they took in response to the COVID-19 pandemic. They can either justify their actions by drawing on public interest exceptions in the applicable investment treaty or on established emergency practices in international law. Both options, however, have their limits.
The first option is more theoretical than of practical relevance. Ninety per cent of the investment deals in force today are so-called old generation agreements with hardly any public interest exceptions, so provide little leverage for states. This is why, as DLA Piper concludes, "states commonly have little in the way of defences or exceptions that are spelled out in the treaties". 
Regarding the option of state defences under customary international law, investment lawyers draw on the many ISDS rulings against Argentina to come up with counter arguments for investors in the COVID-19 context. For the defence to hold, for example, states will need to show that the measures they took were the only way to deal with the harm caused by the pandemic. But as lawyers of Aceris Law have pointed out: "It can always be debated as to whether particular acts taken by states are the only means to safeguard an important interest, as the very different reactions of states to confront the COVID-19 pandemic in fact illustrate." 
In addition, states will need to show that they did not contribute to the emergency situation of the pandemic. Yet, investors could argue "that some states contributed to the crisis through lack of preparation for a foreseeable event" (Reed Smith) or that "states' under-funding or under-resourcing of health care systems is a substantial contributing factor" to how hard the pandemic hit them (20 Essex lawyer). While this might well be the case, should an ISDS case then be used to rub salt in the wound of a depleted health system?
"Notwithstanding the fact that COVID-19 presents an unprecedented and fast-developing challenge, the guarantees given to foreign investors under IIAs [international investment agreements] remain relevant to an assessment of state action in response to the pandemic." Law firm Herbert Smith Freehills
Get out of the treaties before it is too late
While the global public is following the coronavirus crisis fearing the decimation of whole continents, investment lawyers seem to be saying 'we know it's awful, but we should crack on with plundering public coffers through ISDS anyway'.
At a time when a global health crisis is compounded by a major economic crisis, the need to avoid ISDS claims has never been greater. This is why experts have called for a permanent restriction on such challenges to government measures targeting the health, economic and social effects of the COVID-19 pandemic – and for an immediate moratorium on ISDS lawsuits more generally. There is already a draft proposal for an agreement to suspend ISDS claims for COVID-19 related matters.
Another option is for countries to get out of existing ISDS deals. South Africa, Indonesia, India and many others have terminated some of their bilateral investment treaties. Just recently, 23 EU member states signed a treaty that will terminate some 130 bilateral treaties among them. Italy has left the Energy Charter Treaty which is basically a large ISDS deal for the energy sector. There are also proposals for how ISDS could be ended globally, in a less piecemeal approach. And clearly, states should not enter into any new ISDS deals, let alone the kind of world court for corporations which has been proposed by the European Commission, effectively an ISDS system for the entire globe.
"The need to avoid investor-state claims has never been greater." International Institute for Sustainable Development (IISD)
In a recent blog about COVID-19 and international investment law, legal scholars raised two key questions: "What is the justification for maintaining a legal enclave where the wealthiest economic actors become entitled to a more favourable treatment than the other segments of society that suffer disproportionately as a result of the pandemic and the responses to it? Why do the grievances of investors vis-à-vis states and their expectations of continued profit levels deserve more robust protection than the obligation to ensure an adequate standard of living to the broader population?"
These questions get to the heart of the matter. There is no place for a parallel justice system for corporations. ISDS has to go.