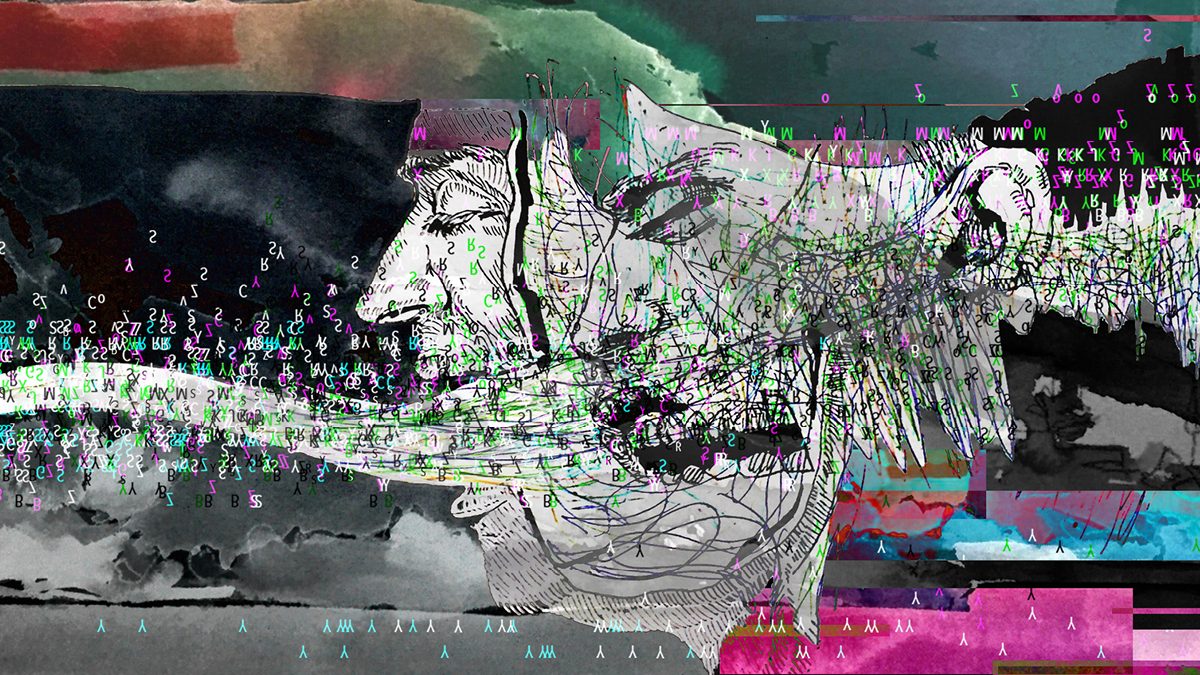 January 16, 2018 | >> Español
International resistance means coming together from different struggles. Making a collective voice heard on the global political stage requires crossing borders and cultures, and therefore coordinating and communicating across different languages.
In July 2017, over 450 peasant farmers from nearly 70 countries from all over the world met in Derio in the Basque country, for the 7th International Conference of the International Peasant Movement La Via Campesina (LVC). The conference was made possible by about 50 volunteer translators and interpreters across some 17 languages, depending on the session: Arabic, Bahasa, Basque, Bimbi, Chinese, English, French, Japanese, Korean, Polish, Portuguese, Russian, Spanish, Tamil, Thai, Turkish and Vietnamese.
Translation and interpretation are essential for transnational grassroots movements. This is far more than a technical question. As one Korean peasant activist highlighted: 'Interpretation is a political matter. It is directly connected to the matter of how well one can communicate and share his/her opinion in the global field'. In other words, language – and thus translation and interpretation – is about access, about participation, about power.
Language – and thus translation and interpretation – is about access, about participation, about power.
This essay explores the language challenges facing transnational grassroots movements, and their strategies for meeting them. What initiatives might make social movements more linguistically diverse and inclusive? And what are the major obstacles to achieving more 'language justice' in transnational activism? The paper is based on online sources about the movements and organizations discussed, a series of Skype, email and face-to-face conversations with LVC members, regional staff and volunteer interpreters/technicians from different world regions, and a small online survey with solidarity interpreters.
The rise of transnational movements
La Via Campesina
La Via Campesina (LVC) brings together millions of peasants, small and medium-size farmers, landless people, rural women and youth, indigenous people, migrants and agricultural workers from around the world.
Built on a strong sense of unity and solidarity, it defends peasant agriculture for food sovereignty as a way to promote social justice and dignity and strongly opposes corporate-driven agriculture that destroys social relations and nature. Women play a crucial role in LVC, for example as the principal preservers of traditional seeds, and LVC defends women's rights and gender equality. Young farmers are also an inspirational force.
Today, LVC comprises 182 local and national organizations in 81 countries across Africa, Asia, Europe and the Americas, representing over 200 million farmers.
Claiming to be the 'real voice' of a social group implies a great responsibility regarding representativeness. Consequently, LVC strives to keep its structures horizontal and decentralized and emphasizes direct participation in decision-making. However, for a transnational grassroots movement with a vast membership that is culturally and linguistically heterogeneous, the processes of deliberation and consensus are highly complex and challenging – and require overcoming communication barriers.
Language as power in transnational activism
Despite the opportunities offered by new communication technologies and relatively cheap transport, the coordination and communication problems facing transnational movements remain formidable. This is particularly the case for grassroots movements, which are usually run by non-professionals and have very limited financial resources. One key challenge for grassroots movements is language and the related participation barriers and power dimensions.
International politics is dominated by a few colonial languages, most importantly English, French, and Spanish. Delegates of transnational movements therefore need certain language skills in order to fully participate in international political arenas. Those who do not speak one of the dominant languages face immense participation barriers. Although, for example, the UN provides interpretation to and from Arabic, Chinese, English, French, Russian and Spanish in plenary sessions, smaller meetings and negotiations often take place only in English. Grassroots movements cannot afford to bring their own interpreters, which means that voices from the Global South remain partially excluded from international political debates.
In order to respect their own commitment to democratic principles (deliberation and consensus) transnational movements need to hear the diverse voices of their membership
A related question is how transnational grassroots movements can overcome such language–power dynamics internally. In order to respect their own commitment to democratic principles (deliberation and consensus) transnational movements need to hear the diverse voices of their membership. 'So, one of the goals of the founders of LVC was to give voice to the voiceless. This can just be achieved, when people can express themselves. In a bottom–up and horizontal movement like LVC, it is extremely important that every single person can express themselves', said a member of LVC's International Coordination Committee (ICC).
For financial and pragmatic reasons, LVC has made English, French and Spanish its 'working languages', and for meetings offers interpretation to and from these languages, plus the local language – if the meeting is held in Turkey, Turkish is added, or Portuguese if it is in Mozambique. Other languages are seen as 'regional' and it is each region's responsibility to organize interpretation if their delegates do not speak one of the three 'working languages'. As a result, events are often dominated, albeit unintentionally, by native speakers of one of these languages. In the words of a Korean peasant leader it is 'because of the colonial history, [that] people from some countries tend to find it easier to lead the discourse than others'.
Similarly, an experienced interpreter observed: 'Some peasant leaders are incredible speakers in their mother tongue […] but then they come to the international LVC meetings and have to intervene in English… and they are very handicapped in how to express themselves… so it really makes an impact on the message they get across […] and even on how seriously they are taken.'
The 7th International LVC Conference was a milestone in giving more space to 'non-dominant'/'non-colonial' languages. According to one coordinator of the interpretation team: 'When the delegations realized that interpretation was working for so many languages, they started to change their speakers and like this suddenly new and different voices have been heard.' This shows that increasing the number of languages interpreted can change the political balance – a message reinforced by a European LVC staff member who felt that 'everyone can now feel the difference it creates within the movement!'
Towards language justice in transnational activism: The case of LVC
LVC, as one of the world's largest grassroots social movements, is also considered to be one of the most inclusive and participatory, making a special effort to achieve language justice through interpretation and translation. LVC appreciates that interpretation can be very complex and demanding work, even if it is often seen as 'menial' and usually relatively invisible.
A staff member of LVC emphasized: 'Before or during the meetings, we always remind the basics of activist-interpretation and we try to share the basic guidelines'. Consequently, ever more peasant leaders acknowledge the importance of language and so increasingly appreciate the commitment of volunteer interpreters.
Responding to different linguistic landscapes
In order to be more effective, LVC has a decentralized structure, with 10 relatively autonomous regions. Since every region has its own linguistic landscape, each has developed its own tactics to improve communication and to address language justice. The regions have uneven 'starting points' due to their historical, social and economic contexts as well as their experience and engagement in the peasant movement. This will be illustrated by examples from Europe and South Asia.
It might be assumed that there are no real language issues in Europe as most people, including farmers, have basic notions of one of the three official LVC languages. This is not true of the entire continent however.
The fact that countries from Eastern Europe are still under-represented in LVC can partly be explained by language barriers, despite great efforts to include European members who may not speak any of the official languages. As a leader from a Turkish LVC member organization explained: 'At ECVC meetings we always speak Turkish, our native language. Otherwise we could not be able to attend those, as none of our leaders speak any other language than its mother tongue.'
(Western) Europe plays a central role at the international level of LVC because of both its historical role in the movement and the concentration of power in the area, manifested in its relative wealth and the presence of many IGOs and NGOs. This concentration has long created fertile ground for a real 'culture of interpretation', and thus to many public and private courses in interpretation and translation.
Furthermore, decades of unequal distribution of wealth and imperialist agendas have obliged – and still do – many people from the 'Global South' to try their luck in the 'old world'. These two aspects are constantly feeding a wide, diverse and priceless pool of potential activist-interpreters. From the global LVC perspective, the European region therefore has a responsibility towards other regions in terms of solidarity and language justice. This is both an extra burden on the shoulders of ECVC's leaders and an opportunity.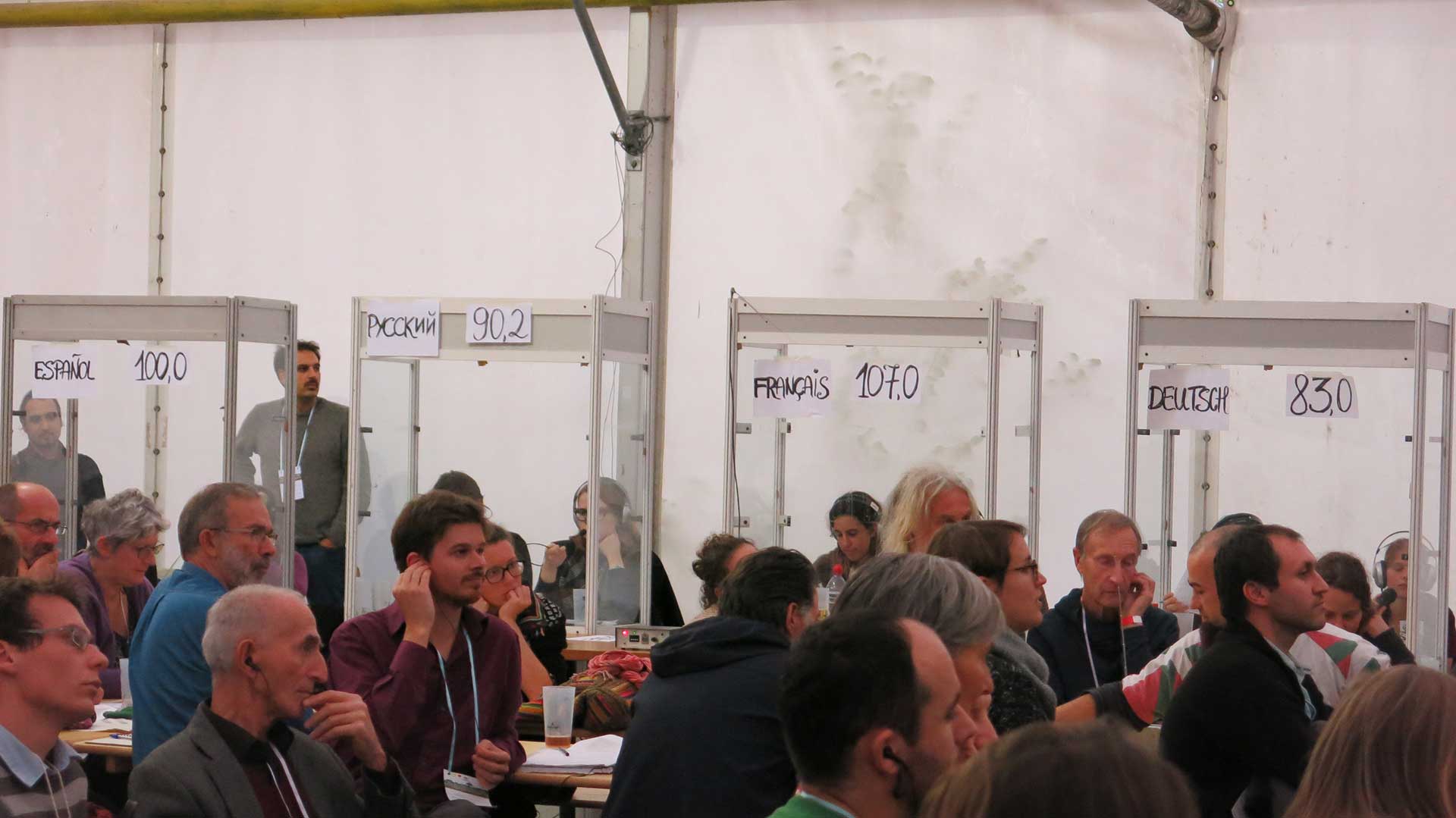 In comparison, in South Asia – as in much of the 'Global South' – there is still a weak capacity for professional interpretation, in which there is no real tradition. In India, for example, there are very few training schools. Hence, most of the movement interpreters are multilingual activists, who can indeed speak up to seven languages, but are rarely trained as interpreters.
Moreover, the lack of access to interpretation of local languages at the international level means that the LVC South Asia sends mostly English speakers to international events. This situation impedes wider and more equal participation, preventing non-English speakers (particularly indigenous language speakers) from attending international forums. Furthermore, it obliges multilingual people to travel extensively, and to wear too many political hats and roles.
In recent years, the regional staff launched various initiatives to change this situation. A former staff member of LVC South Asia recalled her first steps in confronting language issues in the region on the occasion of an international Agroecology workshop, where members of Brazil's Movimento dos Sem Terra came to share their experiences:
The presentation was in Hindi, and interpretation was done consecutively into Kannada, on stage. Then typed by someone else into English, and notes were projected on a screen. Then the English was being read and interpreted into Bahasa, Spanish/Portugñol, Bangla and Sinhalese, using spiders. So, we first needed a crash course to explain all the volunteers (most of them being basically multilingual activists) to cope with the setup, the spiders, the projector, etcetera, plus for the usual rules. Budget was really limited. And the preparation! It was so hard to find interpreters, I was going on Couchsurfing just to find Spanish speakers in the city. We were desperate.
After this experience, she got in touch with her colleagues in East and South-East Asia, wrote a proposal on promoting Asian languages in LVC, and started to network with NGO staff, activists and interpreters in the area. Together they began to build up interpretation training sessions for multilingual activists – an approach that can be seen in the wider context of LVC's tradition of internal workshops, based on the concepts of popular and horizontal education, to train and empower their members.
Building up an activist-interpretation training program in South Asia is an ongoing 'learning-by-doing' or 'designing-by-doing' process.Three dynamics have been crucial. First, the inclusion of important peasant leaders in the process, so that the trainees can practise on 'real' content and the leaders get a better understanding of the importance of interpretation and will ideally advocate for it at the international level.
Second, the commitment of European and/or Europe-trained coaches to share their experiences and to develop curriculums in a participatory and culturally sensitive way, constantly receiving inputs from participants, evaluating and making adjustments. And third, the cross-movement work between LVS and South Asian movements from other sectors such as fishing communities or the LGBTQ movements. 'It is actually this network of language justice enthusiasts from all different movements that has made the progress in the region possible', concluded a former LVC staff member.
As reported on the LVC South Asia Blogspot  the benefits of the interpretation workshops lie also in fostering cultural exchanges, an awareness of and commitment to language justice as well as reflections on identity, in a context where the links between language and power remain very tangible and where the vast majority of peasant farmers cannot have their voices heard at the international level.
Empowering the movement through empowering interpreters
To our survey question 'What could movements/organizers do to improve your working conditions?' one interpreter replied: 'This is a POLITICAL ISSUE – if the Social movements agrees that MAKING IT POSSIBLE FOR PEOPLE FROM THE NON-EDUCATED COMMUNITIES TO MAKE THEIR VOICE HEARD (people who don't speak colonial languages or don't speak them well) is a VITAL aspect of the functioning of their movement then the social movement needs to PUT ITS MONEY WHERE ITS MOUTH IS AND COMMIT to this' (capital letters in original response).
The financial challenges should not be downplayed, but what it is most important to highlight is that, precisely because the resources are very limited, decisions about how the money is spend are, first and foremost, political. Most often, in social movements, discussions about money or organizational issues, as well as structural problems, are seen only as practical matters. However, they are highly political, as the 'shouting' interpreter asserted.
Structure and money can play a positive role if we broaden the picture to draw the lines for a geopolitics of counter-power. If it is agreed that interpretation is a cornerstone for strengthening transnational grassroots movements and 'that spending 1000 euros flying an interpreter is vital. Even if that money could bring hundreds of farmers from the countryside on a bus to a meeting', as another interpreter explained, the next steps are: 1) to see where to get that money from; 2) to advocate for external recognition of this cornerstone; and 3) to empower those with the skills to consolidate language justice within the movement.
In the case of LVC, the regular budget is very limited and funding fluctuates in volume as well as purpose at the different levels and regions. This makes it difficult to establish the percentage of the budget spent on translation and interpretation. However, there are some clear trends. While previously, guided by the budget, only one Korean interpreter, or Thai, or Indonesian was brought in for internal international LVC meetings, they are now trying to always have at least two interpreters, since according to a member of the finance team of the International Operating Secretariat 'there is now a real awareness of what it means to be an interpreter for these people, who in fact do the translation not only during the meetings but also in all the informal moments, since generally the participants they're accompanying do not speak any other language.'
But even if the movement's head is becoming increasingly aware of 'where its mouth is', the budget for interpretation is still limited and fragile. The main persisting barriers are the fear of professionalization and the small number of donors making grants for running costs.
There is, however, a huge potential for untapped funding, mostly in Western Europe. Movements should insist on European institutions, the UN and major NGOs supporting and funding multilingual empowerment projects. They should also make better use of the people who know less widely spoken languages. In our survey, the three interpreters who mentioned having a less common language combination, like Russian–French, expressed wanting to be more involved.
One experienced activist-interpreter was also convinced that there is still much potential for social movements in collaborating with educational institutions: 'I personally think LVC should have a stronger communication work, especially with European language universities. Many of them also teach translation and interpretation, and the students have to gain experience, sometimes through internships. They are also relatively free of family responsibilities, and likely to be involved in ideological questioning. This makes them perfect to match the movement's needs.
From whispering grassroots to a polyphonic counter-power
Translating and interpreting more languages can help to re-balance power inside transnational grassroots movements. The more voices heard, the more representative the movement.
As we have seen, simultaneous interpretation requires a high degree of discipline on the part of participants, which 'can raise resistance within groups which are often based on relatively informal organizing', as a long-time observer from COATI explains. However, with improving such discipline, a group may also reinforce its practice of direct democracy and consensual decision-making, as 'the main effect of multilingualism is to make everything go more slowly, which is important, because then it gets politically more balanced'.
Empowerment of the movement also includes acknowledging interpreters not only as conduits, but also as voices. Voices deserving to be listened to, since there is little chance that transnational social movements can reach the critical mass needed for global horizontality without them. At the same time the interpreter plays a passive facilitating role for a common understanding of language issues through the speaker's self-reflection.
Questions like 'How do I speak? How do they hear me? How is the interpreter translating me?' may seem basic but are critical for the awareness of each voice in order to build up a global and truly representative counter-power.
Alice Froidevaux recently defended her doctoral dissertation entitled 'Grassroots Movements as Transnational Actors: The Case of CLOC-La Vía Campesina in Central America' at the Centro Latinoamericano-Suizo of the University of St. Gallen. She is currently coordinating the Latin American Center at the University of Zurich and working part-time for the NGO Guatemalanetz Bern.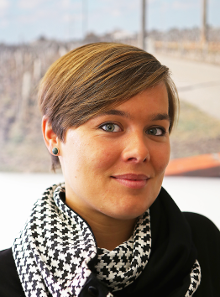 Eline Müller is a Swiss environmental activist and freelance journalist, dedicating most of her time to the issues of food sovereignty and agroecology. She has volunteered and occasionally undertaken paid work for La Vía Campesina and for the Swiss member organization Uniterre. She also works for independent media organizations and various NGOs.